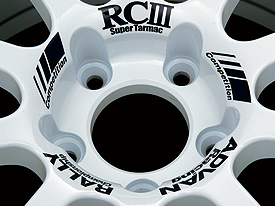 ナットホールを囲むように一周にわたって焼き付けプリントされる"ADVNA Racing RALLY Competition RCIII"のロゴ。15インチの"Super Gravel"、17,18インチの"Super Tarmac"の文字はこのホイールの競技使用での性格を物語る。

The ADVAN Racing RALLY Competition RCIII logotype is heat-printed all the way around the nut holes. Super Gravel on the 15-inch wheels and Super Tarmac on the 17-and 18-inch wheels clearly signify which competitions these wheels are designed for.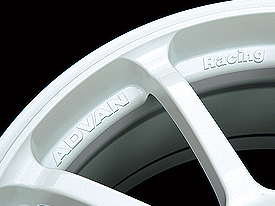 ADVAN Racing のリム部スポーク間への鋳出ロゴ文字は、このRC㈽でも施されているが、他のADVAN Racingホイールのような天面の切削加工は施されていない。こういったところにも競技ホイールとしてのコンセプトが貫かれている。

ADVAN Racing logos are cast between the spokes in 1mm high letters and the letter faces are unfinished as with other ADVAN Racing wheels, and in line with the competitive wheel concept.